Lake Houston Chamber names Rosewood Funeral CEO as 2018 Citizen of the Year
Lake Houston Chamber names Rosewood Funeral CEO as 2018 Citizen of the Year
By Nguyen Le
Updated
​​​​​​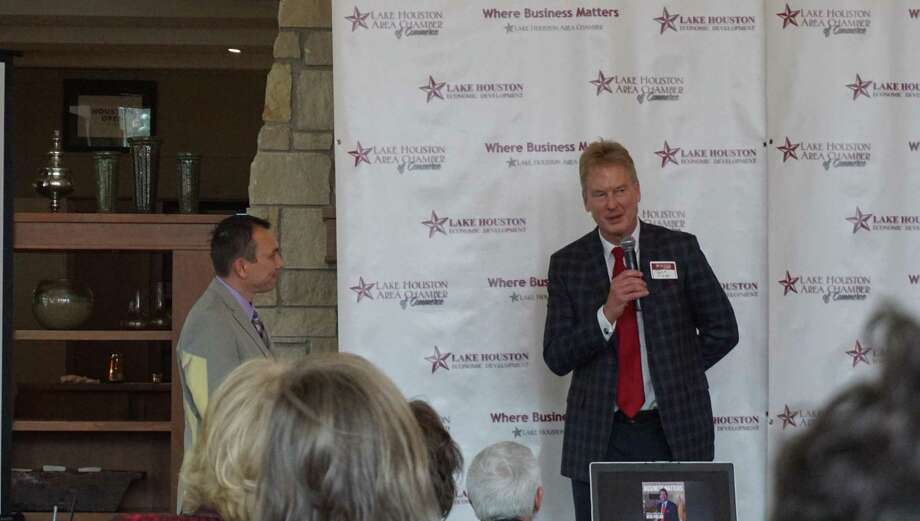 Photo: Nguyen Le
Jess Fields Sr., owner of Rosewood Funeral Home speaks after winning the 2018 Haden McKay M.D. Citizen of the Year award. He will be further recognized at an event in January 2019.
With the title, Jess Fields Sr. has matched his father and brother.
At the Small Business Salute luncheon held Thursday at the Golf Club of Houston in Humble, the president and CEO of Rosewood Funeral Home and Memorial Park was named Citizen of the Year, an honor that two other members of his family had also earned in the past.
"I'm very surprised," he said. "There are many others that deserve the award more than me, but I'm greatly honored."
Each year, the Haden McKay M.D. Citizen of the Year Award is given to an individual who demonstrates selfless public service. Fields Sr. is the past chairman of four organizations — the Lake Houston Area Chamber of Commerce, the Pasadena Chamber of Commerce, the Texas Cemetery Association and the Humble Rotary Club.
Former Governor Rick Perry also appointed him as a member of the Texas Funeral Commission, according to
an announcement
from the Lake Houston Area Chamber of Commerce.
Fields Sr. said the award means a lot of to him as its namesake was his doctor growing up and "a very dear friend of family."
Pasadena Independent School District also named Fields Sr. its Distinguished Citizen of the Year, per a press release dated Oct. 29.
"God has given us all very special gifts and mine is being able to helping others," he said in the press release. "I feel that at Rosewood I am able to reach my goals. That is how I would define success - helping others."
One of his two sons, Jess Fields Jr., was also in attendance at the luncheon. He said what his father achieved will inspire him to always consider the community in all that he does.
"We have a very special local emphasis in this area," he said. "I'm exceptionally proud of my dad and his history of giving back. He's left me some very large shoes to fill, in that respect."
Fields Sr. also shared that his son is now involved in the family business.
"I know that he will take the business to new levels," he said. "We want to continue servicing our neighbors and friends."
Fields will be further recognized at the Chamber's Annual Awards Extravaganza on Jan. 25, 2019. Members and non-members can visit the chamber's event page now to reserve their seats for the event, to be held at The Overlook (20114 Pinehurst Drive, Atascocita).
nguyen.le@chron.com